A Place in Your Heart: Designs That Celebrate Love
Express your love with chic heart-shaped diamond jewellery that says I Love You in more ways than one!
By
Smitha Sadanandan
|
As love rules February, heart shaped diamonds find new takers. Here's looking at diamond jewellery that shines its irresistible way into our hearts.
The act of gifting jewellery has love built into its core, observes Armenian designer Suzanne Kalandjian. "It is either bought for a loved one or bought for yourself because you love it," adds the founder of Suzanne Kalan. The heart pendants and rings from her popular Fireworks collection encapsulates the chaos of scattered baguette diamonds in the form of a heart. By incorporating the pendant with baguettes and setting it randomly, the designer gives the traditional heart a contemporary edge.
A New Spin
Who else but Jessica McCormack could have dreamed up a chic cookie-cutter heart ring? She has reimagined the shape in a more contemporary way – fun and graphic. "Hearts are a bit of a signature for us at Jessica McCormack, and I love seeing a heart-shaped diamond set in blackened gold. There's something about the technique that really makes a diamond pop," says the London-based designer. "You find blackened gold in a lot of antique jewellery – but what's nice about using it now is that it automatically makes a piece feel cool and relevant." This iconic ring, set with diamonds, has had quite a few iterations since its launch.
UK-based jeweller Tom Rucker employs laser welding to craft his architectural and unconventional wearables in platinum and gold, while drawing on his impeccable goldsmithing skills. Tom's Geo Puls gold heart pendant necklace is peppered with a slim pavé of rare white diamonds. "It is essential not only for me, but also for my clients to be sure about the origin of the diamonds I'm using. A natural diamond has no alternative to me," he adds.
It is either bought for a loved one or bought for yourself because you love it.

Suzanne Kalandjian
Bangles from Rare Heritage celebrate hearts rendered in a combination of 18kt rose and white gold. Manushi Singh, the co-founder of the brand, joins the creative trend with a modern approach for hearts. The design employs natural diamonds in varied cuts. "We have amalgamated three solitaire diamonds to make a heart shape. The idea behind making them in white gold is to enable them to be paired with both Western and Indian outfits," she adds.
The open ring from Messika's Joy Coeur collection pays homage to sparkling heart-cut natural diamonds. Valérie Messika designs jewellery that "Celebrates love, and accompanies women through every moment of life." The diamond heart surrounded by a plain thin band with a delicate diamond pavé comes to a point on one end, ensuring the ring makes a sleek style statement.
A natural diamond has no alternative to me

Tom Rucker
ORRA's white and rose gold Valentine pendant is an adorable way to hold love close to your heart, while Mira Gulati's classic necklace set with natural diamonds is a piece that will never date – it is effortlessly glamorous. With a design aesthetic that is unabashedly feminine, Mirari's 18k white gold necklace set with an assortment of diamond cuts – emerald, marquise and heart – meld well to exemplify the designer's style.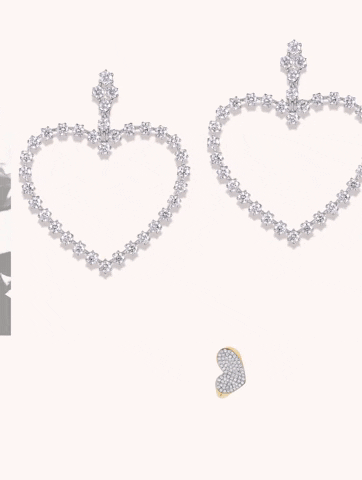 Motifs & Meaning
"Gifting jewellery is one of the most significant ways to express love, because it is created to last forever – it gives permanence to a feeling that you hope will never fade," says Colette Steckel. "It may sound cliché, but love is what fuels me." Her asymmetrical diamond heart ring from the Penacho collection is inspired by signet rings and her Mexican heritage. The designer references a "slightly misshapen heart," alluding to the fact that "love is not always flawless." Sprinkled with ethical diamonds, the design mirrors emotional and intellectual aspects of love.
Gifting jewellery is one of the most significant ways to express love because it is built to last forever

Colette Steckel
Envisioned by Hazoorilal Legacy's Rohan Narang, a pair of statement heart danglers have a delicate blend of craft and romance. "We've used white gold links to connect each round, brilliant-cut natural diamond instead of regular prongs. The design symbolises the deep emotional connections sparked by love," he adds.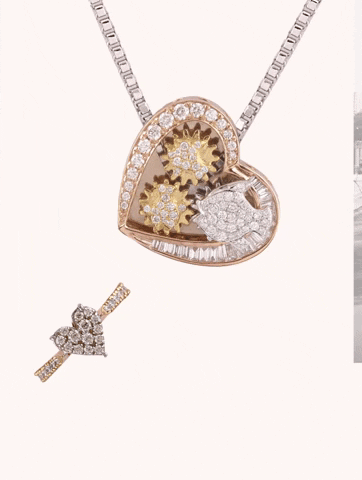 Bonding Over Good Times
The gold heart pendant with hints of diamond and fishy details is a fidget-worthy piece. Ishu Datwani hones in on the movement mechanism used in manual timepieces for his new Tick Tock pendant. "The gold chain passes through the pendant and, as it moves, the wheels inside rotate in a sequence," explains the founder of Anmol Jewellers. The design of the kinetic pendant captures special moments in time, just as Ishu intended.
Inspired by the 'Bond of inevitable love,' Kirtilals has adorned the heart ring in white and rose gold with round brilliant-cut natural diamonds. The shank, featuring a partial diamond pavé, lends elegance to the design.
This season of love, gift diamonds from your heart and make every day forward a reason to celebrate your sparkling love!